Social Buzz
How much attention do you give to your Facebook page? Do you really have the time to manage your Facebook site effectively? What about other social media: do you know what is out there and how you can utilize it to reach your business goals?
An effective social media campaign can achieve multiple objectives:
Generate positive buzz about your business,
Lead customers to a website or storefront,
Allow you to stay in touch with customers and provide customer service, and
Promote sales.
At Internet Fusion, we know you want to benefit from all that social media has to offer, but we also realize you are busy running your business. Setting up and maintaining an effective social media strategy takes time that you might wish to allocate to other aspects of your business.
Internet Fusion designs and delivers professionally branded Facebook, Twitter and other social media web pages. We coordinate your social media sites to reflect your brand message and mesh with your overall marketing strategy.
The Internet Fusion Package
Internet Fusion puts its writing skills to work to enhance your social media presence. We offer a package that includes regular monitoring and updating of Facebook and other social media pages.
If you wish, we can also develop a plan to market and advertise your social media pages to help grow your number of followers.
---------------------------------------------------------------------------
Newsletters as a marketing tool
A monthly or weekly e-newsletter serves as an invaluable marketing tool that benefits your organization in several ways:
It keeps your company and its products or services in the forefront of your customers' minds so they think of you first when it's time to buy,
It directs people to your website or storefront,
It provides a forum through which you can list special offers and sales, and
It produces excellent public relations with your customers.
With a newsletter, you can "organically" build a list of individuals interested in both receiving your news updates and purchasing your products or services.
Internet Fusion can design and write a newsletter for your organization on a bi-weekly, weekly, monthly or quarterly basis.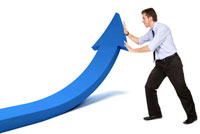 We include articles and other information you indicate as pertinent, and we design the look-and-feel of the newsletter to mesh with your overall marketing strategy. The newsletter design template can change with the seasons or maintain the same look throughout the year.
Internet Fusion stands ready to put its writing and editing expertise to work on your newsletter. Contact us for more information.
Check out the Vegetarian Light Blog!